Amazon's digital shelf versus traditional retailers
When putting together a digital shelf strategy it's important to consider what medium you'll be using. Like all retailers, Amazon has its own search engine criteria, and differs in other ways from bricks and clicks retailers. As Amazon is expected to capture 50% of the ecommerce market in 2021, having a dedicated digital shelf strategy is important. 
How Amazon's digital shelf differs from online brick and mortar
All of the classic elements of the digital shelf exist on Amazon so it is crucial to have a strategy that addresses all of those. However, the search algorithm, for one, is quite different, and has atypical criteria, with sales performance history being the most important factor.
Keyword and text matching is also important, followed by pricing considerations tied to which one of the suite of Amazon platforms a shopper uses.
Amazon is about media while bricks and clicks are about execution
Increasingly, Amazon is using its own digital shelf like an advertising network. Manufacturers and third party vendors compete for space, visibility and the buy box through search. Also, availability is not an issue for Amazon with it's warehouses and extensive delivery network.
However, traditional retailers are forced to be more focussed on the execution of distribution, promotions, in-store availability, etc.
Increasing market share on Amazon
There are a number of quick fixes that can improve performance on Amazon. It is important to ensure imagery, including video, conforms to Amazon's guidelines and to correct any issues immediately. This can boost sales by as much as 55%.
Content needs to be monitored regularly too, as changes to the algorithm effect the ideal type and length of content. Currently, the optimum number of words in product descriptions, for instance, is 123.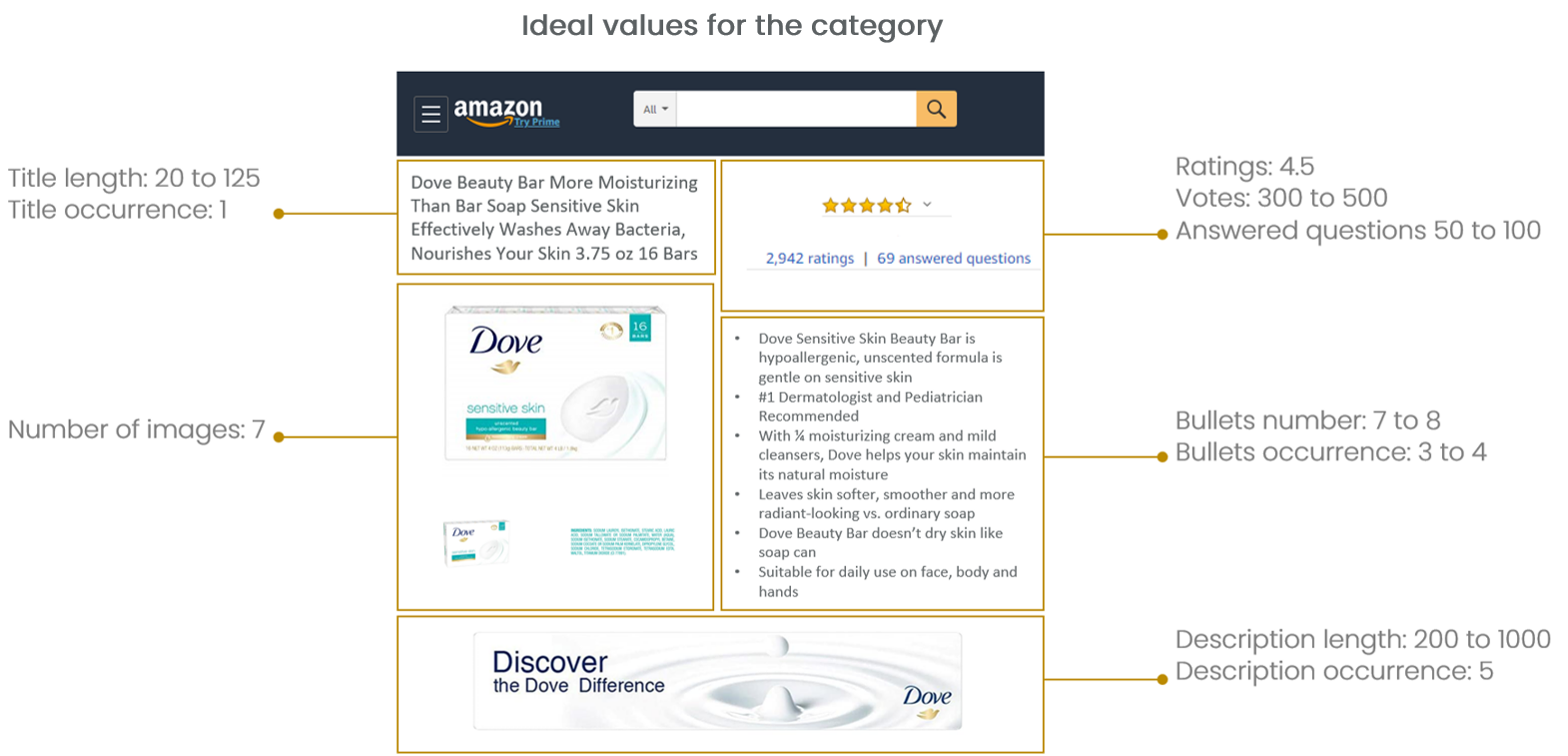 Amazon is about visibility and paid discoverability
With its accessibility to third party vendors, Amazon designs search and findability to feature items customers want to purchase, regardless of whether they are offered by Amazon or one of its selling partners. Consequently, it's essential to ensure your products meet the algorithm criteria or to pay for placement.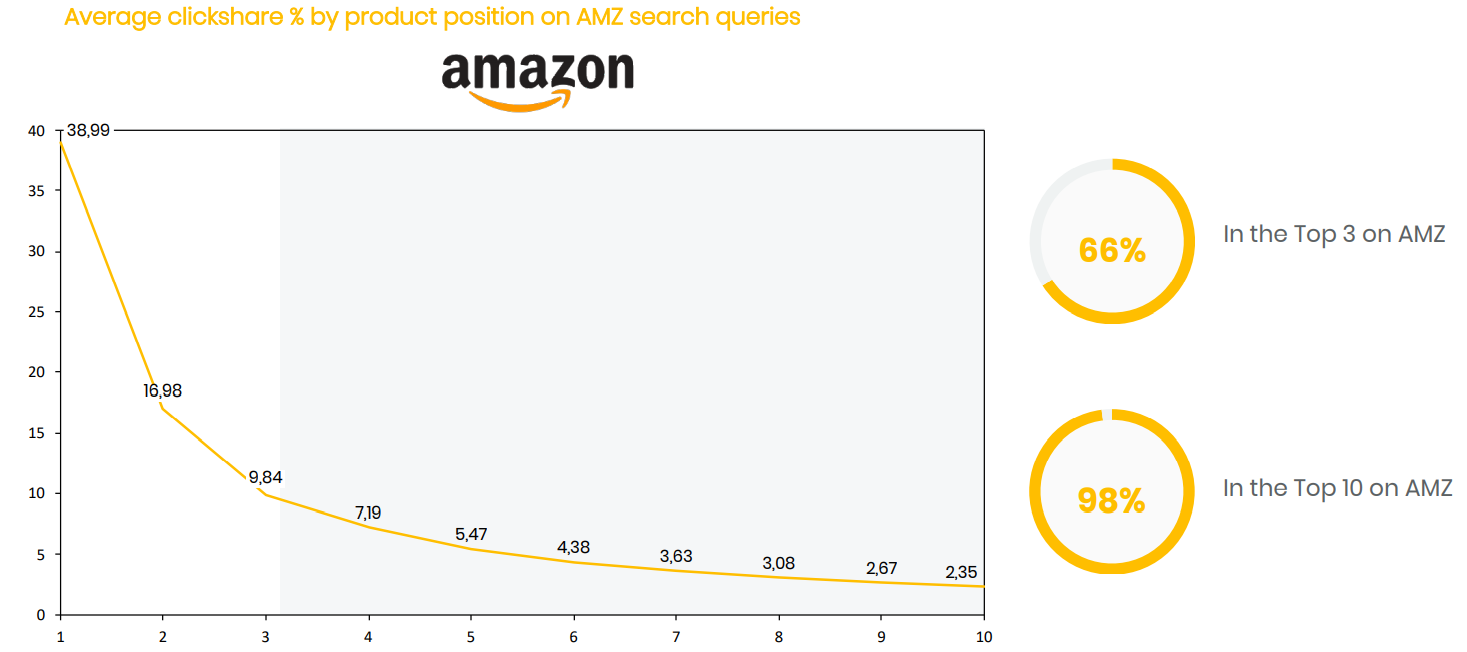 Data Impact analysis on AMZ 1.2 million search keywords between May – August 2019
The digital shelf for brick and mortar stores
The execution of negotiations with manufacturers, correct pricing and categorization of products, promotions and availability defines the traditional retailer model that underlies the digital shelf.
All of these things must be monitored closely to succeed with these retailers, whereby Amazon is all about a search performance and visibility digital shelf.
Gaps in execution and location-based data granularity
Brick-and-mortar retailers that are transitioning to online undertake an increasingly complex task. The merging of online and offline requires not just cooperation from several aspects of a manufacturer's organization, but a new organization. Distribution needs to be informed by regional trends, OOS levels and share of assortment. The sharing of information across teams needs to be automatized.
Multiple consumer touchpoints are generating more data than ever. All this new information requires exhaustive location-based data analysis to pinpoint issues so they can be rectified. The following table outlines the complexity involved in maintaining the digital shelf for a pure player like Amazon as opposed to a traditional retailer.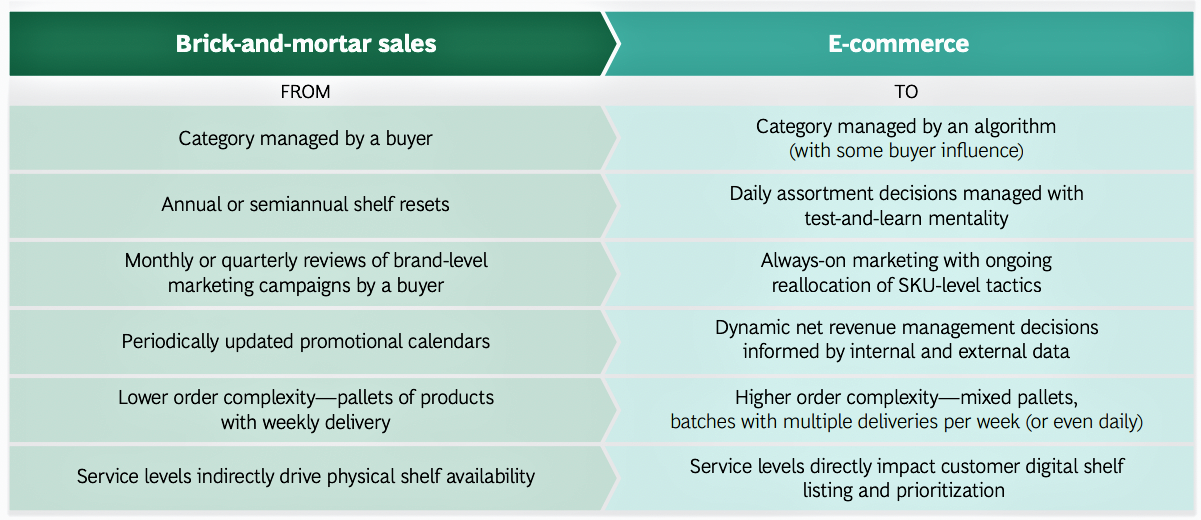 CPG location-based analytics and the digital shelf
Whether brands are selling on Amazon or traditional retailers or both, a data analytics provider with reliable, store-based data is a necessity to compete.
The omnichannel environment is becoming increasingly complex, and consumer behavior and brand's and retailer's ability to adapt to it will determine who succeeds.
Subscribe to our newsletter